---
Disclosure: To aid this review a copy of Gibbous – A Ctuhulhu Adventure was provided free of charge by Stuck in Attic
---
Summer is practically over and as everyone knows, it's now time for humanity to celebrate it's customary spooky season by scaring the hell out of each other with spine-chilling stories, frightening films and ghostly games. If however the current state of the environment/politics/imminent global conflict etc. has you terrified enough already it might be wise to stick to things more funny than fearsome. That's exactly where Stuck in Attic's point-and-click Gibbous – A Cthulhu Adventure comes in.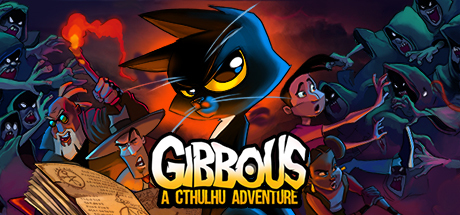 The plot of Gibbous – A Cthulhu Adventure centres around a weary student trying to revert his newly enchanted cynical talking cat to a state of silence by undermining the work of a charmingly inept cult, rescuing a kidnapped detective all while saving the world  from certain doom while he's at it. If this sounds a little bit mental – it really is.
This story is told through the perspective of three interesting protagonists; the kidnapped detective Don – armed with his delightfully cliche gravelly tones and spouting constantly lamenting dialogue, the half-Romanian student Buzz and the imaginatively named cat Kitteh. You are given a good amount of time to get to know each character, and when the game eventually end you'll find yourself quite sad to see them go.
As the name would suggest, Gibbous – A Cthulhu Adventure is heavily inspired by the works of horror legend H.P Lovecraft and the dialogue delights in making references to the source material – even lovingly cracking a few jokes at its expense. Despite its clear influences Gibbous – A Cthulhu Adventure feels very stand-alone, and thankfully avoids the over-reliance on its source material  – an easy to fall into pitfall that has ruined many parodies. This is thanks to the  great deal of work that has clearly gone into crafting a solid plot and presenting a unique and engaging world.
Rather than taking the easy route and lazily rehashing a Lovecraft setting, Gibbous draws from the overriding themes present in the locales of his work and transfers them to the new setting of the developers' homeland; Transylvania. From the ancient tightly-nit houses of Kingsport to the isolation and decaying wooden walkways and huts of Innsmouth your favourite Lovecraft motifs are still here, but presented with the reinvigorating dash of a new cultural influence.
Artistically, the whole game is a marvel. With beautifully hand-drawn background stills showcasing moody Gothic interiors bathed in softly glowing candlelight leading out onto mazes of arched houses under a rich dusk sky. Cut-scenes are too hand-drawn and extremely reminiscent of Disney animations in all the best of ways.
The voice acting is also, for the most part, superb; with the few times where it wavers actually helping to add to the point-and-click charm.
One unfortunate area where the game's overall visual excellence falters would certainly be character's mouth animations which seem to bare very little correlation to what is actually being said. Although a minor gripe, seeing characters' mouths flap open and closed wildly like an excitable goldfish for a couple of seconds before a line has started and after it has ended is a little distracting.
Gibbous triumphs as a successful comic work. Although the art of laughter is certainly subjective, there are many moments throughout that I feel could bring even the most hardhearted individual into a guffaw. The fast-paced delivery and the fact that almost every line of dialogue is jam-packed with jokes and pop-culture references one after another keeps things from becoming too awkward when the lines occasionally fall a little flat.
In typical point-and-click fashion, the game is structured with occasional puzzle solving throughout. With a small item pool in your inventory and (very unusually for a point-and-click game) developers that actually understand how trains of human logic run,  these puzzles can be solved with no real hassle. I'd say they were even a little too easy – even for a person as embarrassingly bad at puzzles as I am. I was actually a little shocked that by the credits of the game I hadn't needed to look at a tutorial even once. This certainly isn't a game for those yearning to self-inflict pain trying to solve incomprehensible dilemmas Monkey Island style.
Despite it's lacklustre puzzles and slightly bumpy edges, Gibbous – A Cthulhu Adventure successfully tackles an ambitious blend of H.P Lovecraft's hair-raising cosmic horror and the campy comedy characteristic of the ongoing rival of the point-and-click genre with an admirable level of finesse. For Lovecraft fanatics playing this is a necessity and, thanks to its accessibility in the fields of both comedy and puzzle design, it's a title I would recommend to casual players looking for a game to play this Halloween – one that's a little more sweet than scary.
Definitely give Gibbous – A Cthulhu Adventure a look on the Steam Store by clicking here!